Reviewers praise "Evil in Our Time"
Evil in Our Time received near unanimous praise in media reviews when it was published in Sweden in March 2002. Some 40 reviews in newspapers and periodicals have hailed it as one of the best books published in Swedish about the Balkan wars. A selection of translated review quotes follow here.
Dagens Nyheter (liberal national daily, circ. 380000)
Maria Carlshamre, former Member of the European Parliament
"In 'Evil in Our Time' the journalist Christian Palme has written a captivating account of the background to the war crimes tribunal in The Hague. The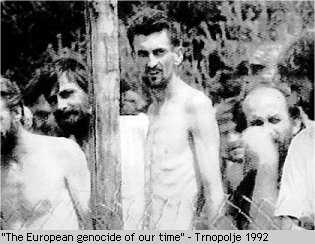 book gives us the sorrow, the fury, the shame over the passivity of the international community - and the intricate political gambling and surprising resistance against the creation of the court.
This is a book that should be read by anyone with the least interest in understanding our present. Not only do we get clear and distinct background facts, but it is also a gripping account of the epilogue to the European genocide of our time, written by one of the best and most competent journalists of our country."
Svenska Dagbladet (conservative national daily, circ. 200000)
Steve Sem-Sandberg
"Christian Palme is a brilliant writer with a rare ability to make complex technical issues come alive for a general reader. /.../
Palme's book is the first in Swedish about the war crimes tribunal in The Hague, and not likely to be the last. As all books published in the midst of dramatic activities it will risk being run over by time. But at the same time it is important that books like these are published. To report from a war gives glory and career opportunities to hungry reporters. But behind the front lines there is always the more prosaic reality of the wounds that it may take generations to heal, if they will ever heal. To write about the life of the war victims may not be glorious, but it is only from such accounts that real understanding of war can be based."
Expressen (liberal national daily, circ. 300000)
Per Svensson
"Christian Palme has written a useful and passionate book about this great cause, useful not least in these days when the powerful of the world again appear to commit the mistake of making the efficiency of 'realpolitik' a priority at the cost of the fundamental principles of a just society.
Palme's book isn't just about the 'quest for justice in the Balkans', but also teaches us much about how 'terrorism' should, and should not, be fought."
Aftonbladet (social democratic national daily, circ. 400000)
Jesper Lindau
"Palme's account is simple and distinct. Justice is a process. There has never been a perfect court, only an aspiration to create a legal system that will one day become effective.
'Evil in our time' is not a book that uses grand subjectivity to interpret a war gone by and the times when it was enacted. It is a book which with great care for the ordinary reader tries to provide what is necessary to understand why for many years a number of gentlemen must pass through the court in The Hague. This makes it one of the most valuable books written about the Balkans in Swedish."
Upsala Nya Tidning (liberal daily, circ. 65000) and Norrköpings Tidningar (liberal daily, circ. 70000)
Magnus Rodell
"By weaving together the history of the tribunal in The Hague and the history of the Balkans Palme shows in a convincing manner what is evident for anyone who has taken time trying to understand the conflicts of the 1990's. The Serbian war in Bosnia was fundamentally about deportation, destruction and the wiping out of all traces of another culture than their own. /.../
With its elegant style, its richness in nuance and its clear positions 'Evil in our time' is without a doubt the best book written in Swedish about the wars in the Balkans."
Borås Tidning (conservative daily, circ. 40000)
Bengt Ingvar Ekman
"The book, an exceptional guide to the Hague Tribunal, highlights the appalling 1990's from several viewpoints. The active and well-informed seeker of truth as well as the morally committed but never pathetic observer tells the story of what occurred and, in as much as it can be explained, how and why it could occur. /.../
Christian Palme has an impressive knowledge of the Balkan tragedies of the 1990's, their history and the presence of history today, or, perhaps better expressed, the ability of calculating power politicians (for instance that of Milosevic) to exploit history for their own purposes. I have found this book exceptionally useful and will return to it as a source for facts and viewpoints. /.../
I can't imagine a better foundation for anyone who is looking for background to the drama that is enacted in The Hague, than this gripping book by Christian Palme."
Forskning & Framsteg (monthly, circ. 18000)
Henrik Höjer
"Much has already been written about the Yugoslav wars of the 1990's. But this new and captivating book by Christian Palme shows that the subject has hardly been exhausted. /.../ 'Evil in Our Time' belongs among the best and most well written of the many books about the Balkans."