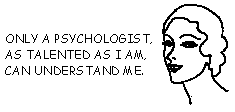 Gunborg Palme is a psychologist specializing in relations and eating disorders. She has written two books and scientific papers. She lives in Stockholm, Sweden. Her comics, based on her experience as a psychotherapist, are regularly published in the largest Swedish morning newspaper, Dagens Nyheter.
Publishers and editors: Hundreds of comics are available in high-resolution (300 dpi bitmapped) format with texts in English and Swedish. Write to Gunborg Palme for more information.
Buy the e-book in English: You can buy the e-book with 100 more comics as an e-book, downloadable from the Internet. High resolution format, suitable for printing on paper.
Buy the book in Swedish: You can buy the book with many more comics, by sending 250 kronor to postgiro 45 73 29-1 and writing "Hos psykologen" and your postal address on the tag.
Answers to more than 800 questions about psychology
More info in Swedish about Gunborg Palme.
More free information in Swedish from Bokförlaget Höst.